Cheyenne/Jax Egyptian Mau Kittens
AVAILABLE FOR RESERVATION
CHEYENNE'S YELLOW COLLARED SILVER GIRL
Updated 10/16/19
DOB: 09/05/19 Kittens are currently5 weeks old. They will be READY TO GO around 11/14/19.
Kittens are just 5 weeks of age in the photos. They do have a lot of baby fuzz which varies from one kitten to another, but this clears up when their adult coat comes in and their markings will be much more clearer/sharper and not so fuzzed. Their eyes will be bright green as adults.
Adorable silver girl! She is sure to be a stunner with her pure white background coat and jet black spots in a very nice pattern. She has excellent head shape and an adorable face, great ears. This little beauty will make a wonderful loving and entertaining companion for a lucky family!
Pet Price: 1000 with Spay contract
The deposit to hold the kitten until it is ready to go is $250, with the remaining balance due before the kitten departs. Your kitten can be picked up here, or we can meet you up to 3 hours from our location near Hot Springs, Arkansas. We cannot ship kittens.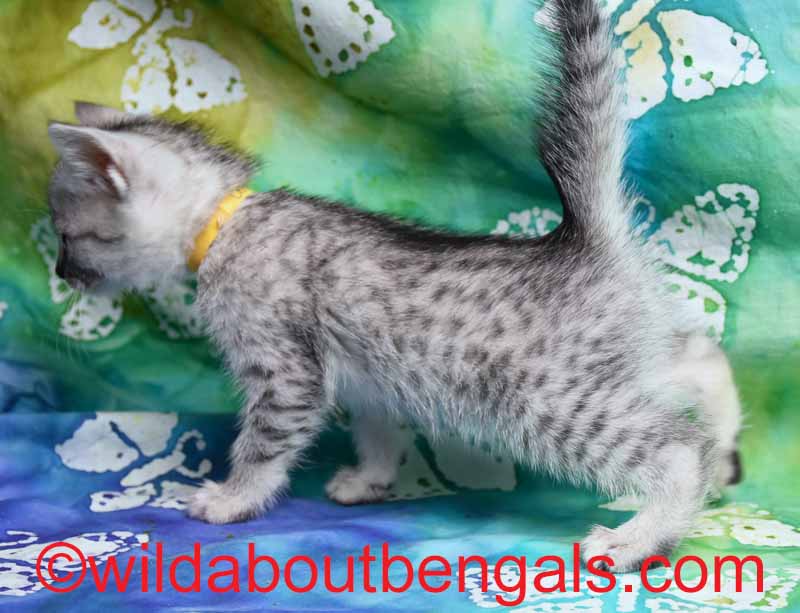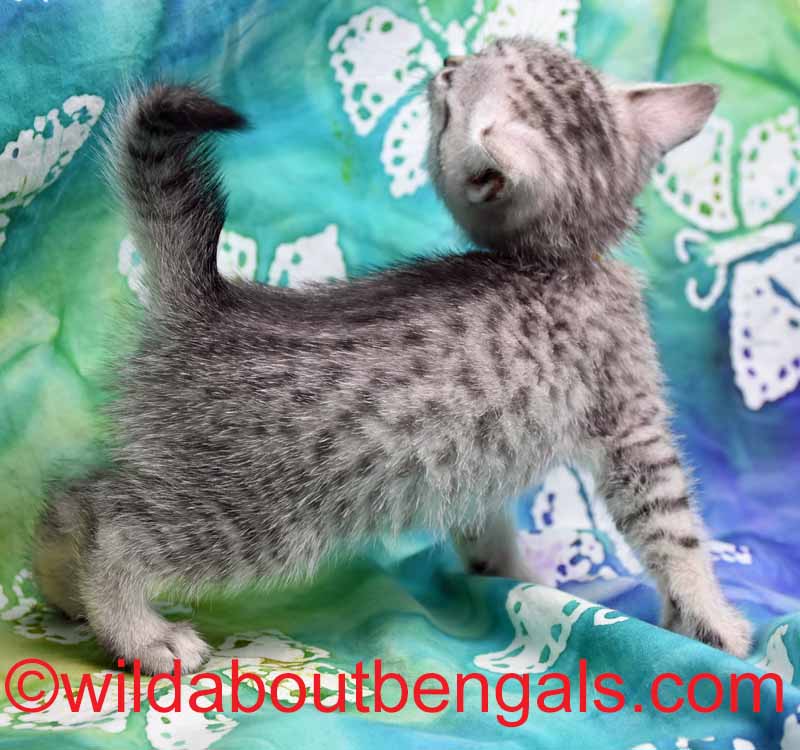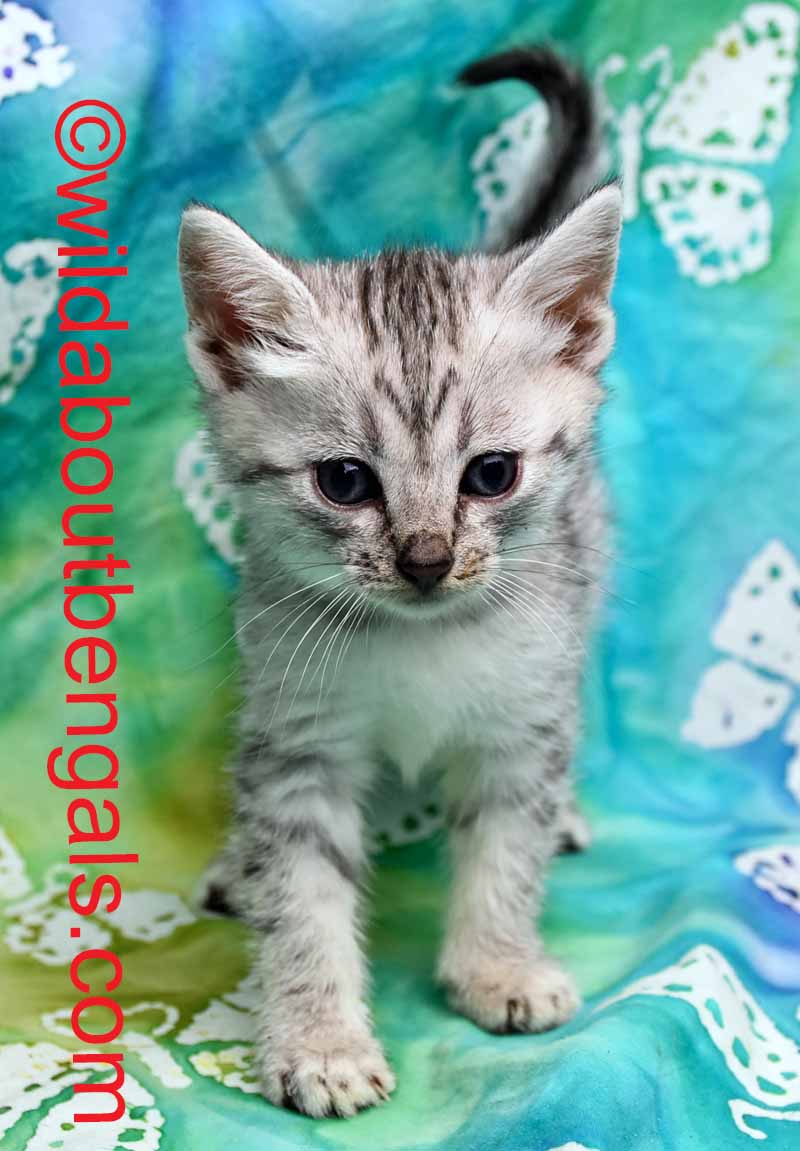 Whoops mom forgot to wash my dirty face before photos, I am learning to eat wet food and got it all over my face!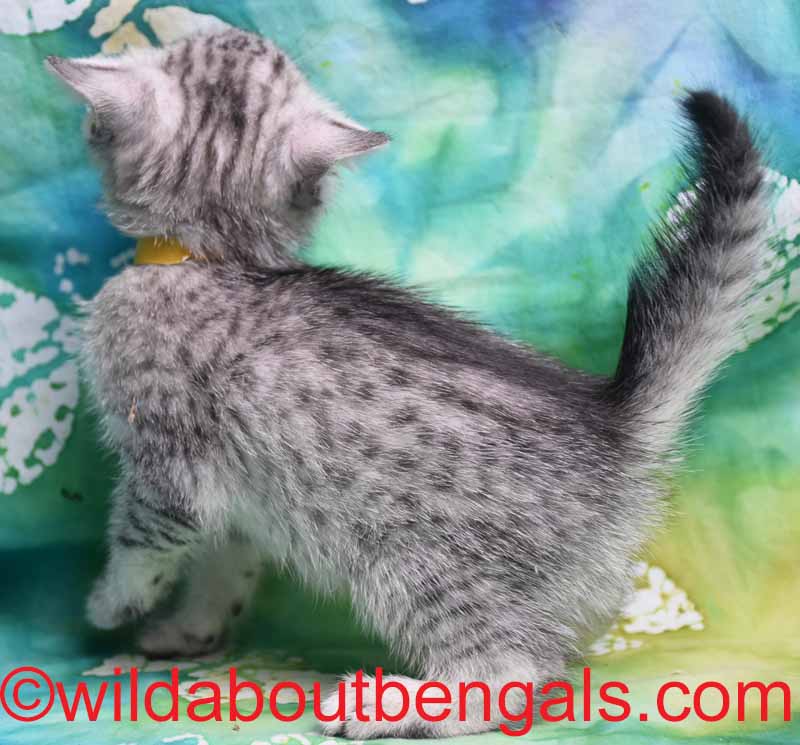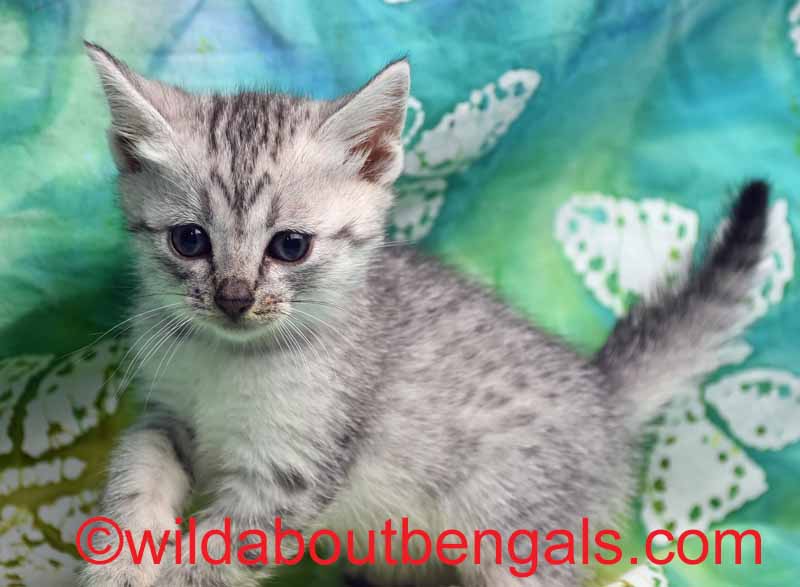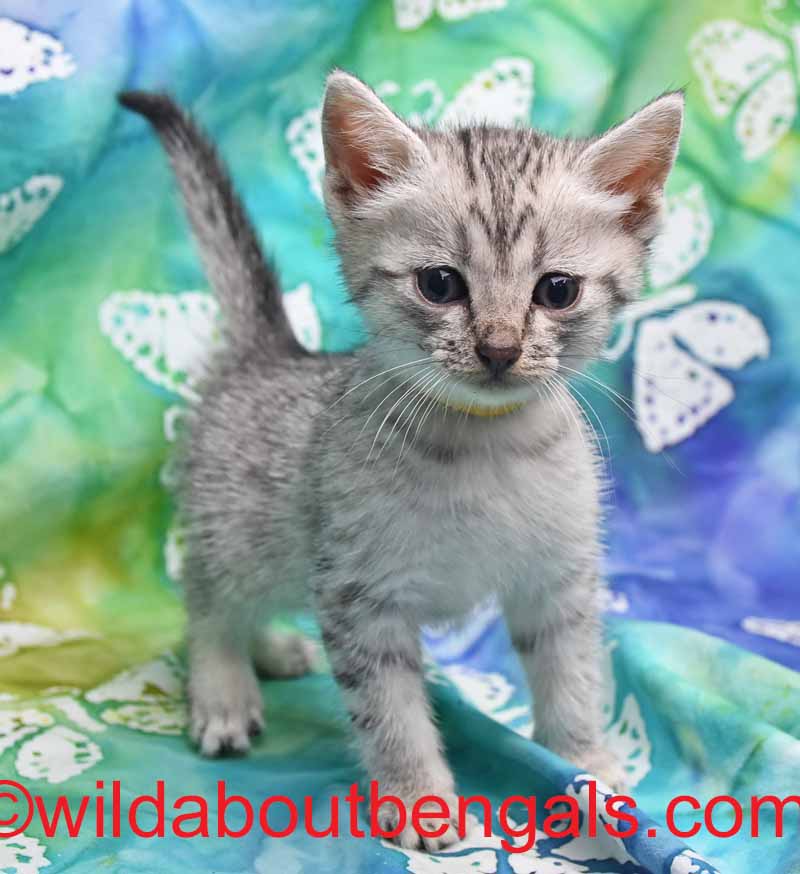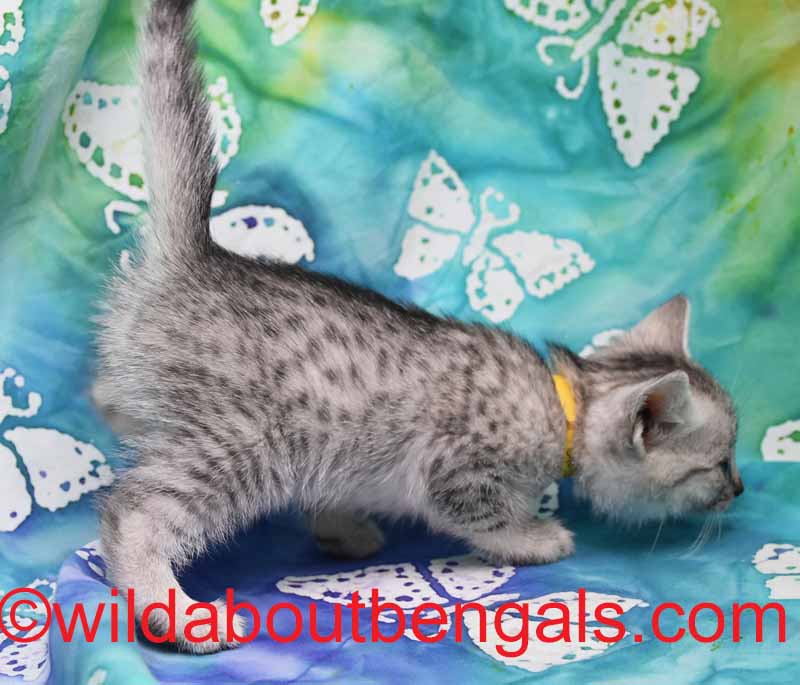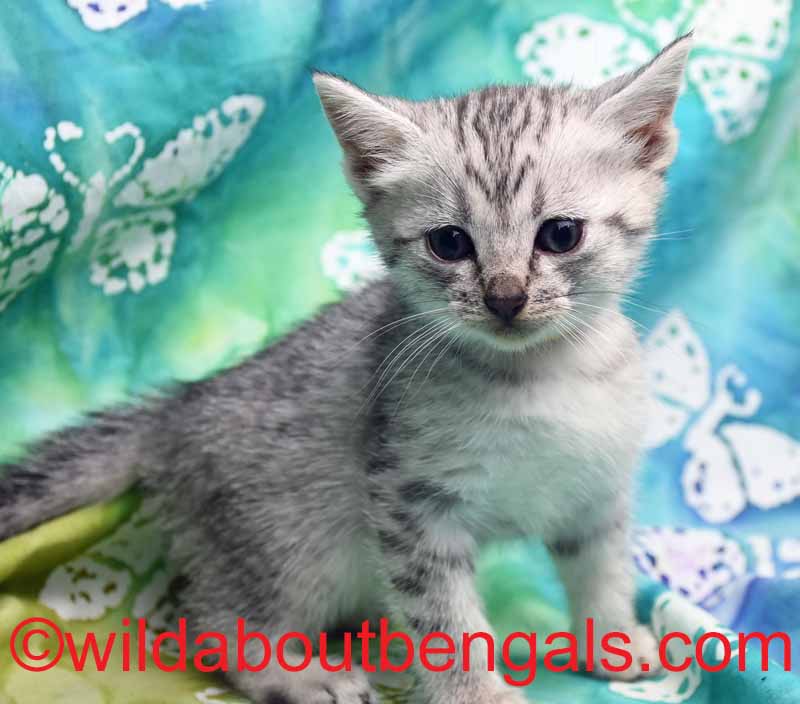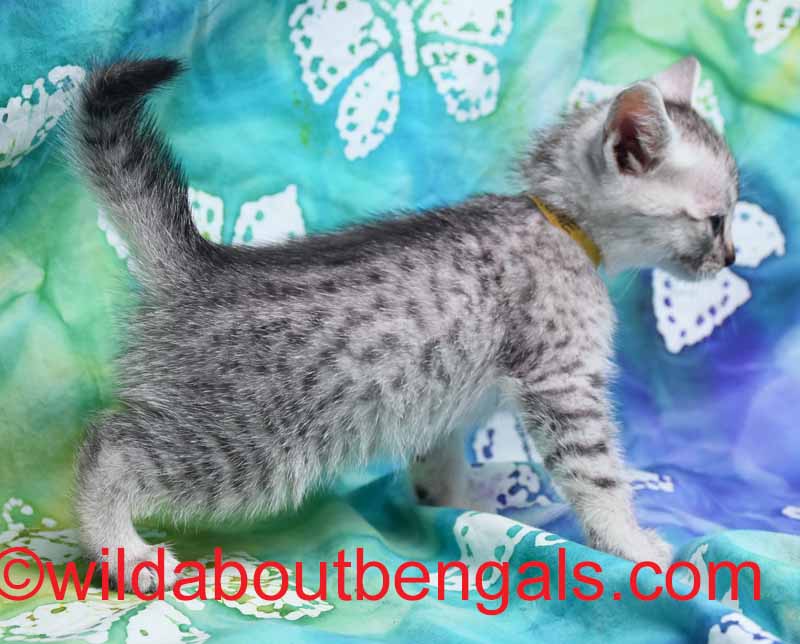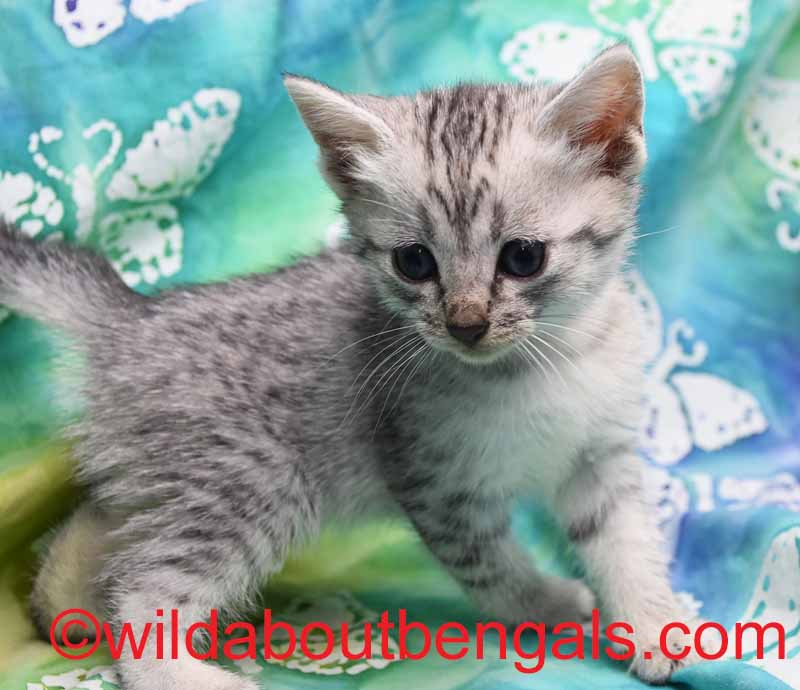 Click here to go back to Cheyenne/Jax kitten page
THE QUICKEST WAY TO GET IN TOUCH WITH ME IS BY EMAIL TRACY@WILDABOUTBENGALS.COM
Email me at tracy@wildaboutbengals.com if you are interested in a kitten.
All of our kittens are lovingly hand raised underfoot in our home to ensure the most well adjusted, happy, healthy pet for you. Our kittens are well socialized with people and other animals and have super sweet temperaments. All of our kittens are TICA registered. Our kittens are ready to go to their new homes after they reach 10 to 12 weeks of age. Before they go to a new home, they will be litter box trained, weaned onto solid food, socialized, up to date on vaccinations for their age, and have a health guarantee and written contract as well as support from us for the lifetime of the cat in case you ever have any questions during your cat's lifetime. Please view our Adoption page for more detailed info about adopting one of our kittens.