WHAT OUR CUSTOMERS HAVE TO SAY.....
Please be patient for all photos to load
Tracy, thank you so much for everything you have done! Katie is just over 5 months now and quickly became a huge part of my family. She is as smart as she is beautiful. Everyone who has seen her is amazed at how beautiful she is. She has won everyone's heart with her loving personality. My local vet is familiar with your breeding business and tells me your kittens are always exceptional, Katie included. She is a playful kitten and runs from one end of the house to another. She even wears out my two pups! Your knowledge and expertise is top notch. The fact you have always been available to answer any question, or offer advice, or just to check in on Katie is priceless. You have been 100% professional to work with and quick to respond to any inquiry I have had. I plan on purchasing a second kitten to pal with Katie and would consider nobody but you to work with.
~David W., Arkansas, (Egyptian Mau) 2014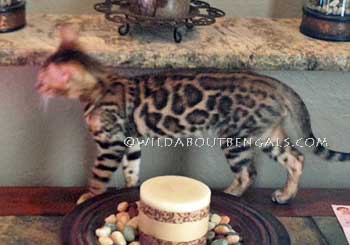 Tracy, I just want to thank you again for Rikki and Rocco. This being our second set of kittens from Tracy has proved once again to be a great experience. They are such beautiful kittens and they are so much fun. As you told us you expected, Rikki is the real active go-getter and Rocco likes to just lay and cuddle. They are amazing and have really become part of the family. We could not be happier. I have attached some photo's for you to see how they are developing. Thank you so much.
~ James S., Oklahoma, (Bengals) 2014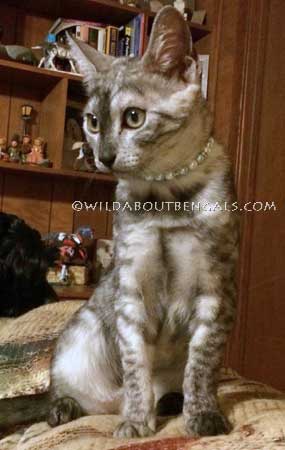 Wanted to write and thank Tracy for the honor of being able to have one of her awesome Egyptian Mau's in my family. I have 5 cockers and Asia has won all them over. Her and the youngest cocker are big buddies. Asia is so sweet and adorable. That would come from her early months with a great bloodline and an awesome breeder who interacts with the babies.
Asia makes the cutest sounds and purrs all the time! I could go on and on about all I love about her. Asia is a wonderful addition to my family and I am so blessed to have met Tracy. She has been so sweet and kind helping me with all my questions. That is why I am on her waiting list for another Mau. You can't go wrong getting a furbaby from Tracy.

~Lisa M., Arkansas

(Egyptian Mau) 2014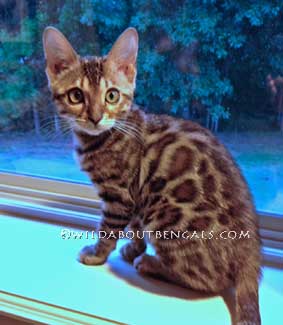 Kita, our 3 mth. old Bengal, is an absolute delight! She is just so precious, so fun to watch run and jump and play. She is best friends with our Yorkie, Cassie. They chase each other from room to room as fast as they can go. Tracy received many e-mails that first week we got Kita. We had several questions and concerns, she would respond very promptly with her expert opinions. She really did help us through that first week. We feel Kita is a healthy, beautiful kitten and we thank Tracy for that. We love our new addition to our family.
Rick and Cindy R, Arkansas.
(Bengal) 2014

I purchased my Egyptian Mau in February 2014 and named her Evie. She required very little time to adjust to the new environment and warmed up to my Siamese in less than 24 hours. She has been such a joy to have around and now I'm quite partial to the breed and won't have any other! Tracy is a wonderful breeder to work with. She always answers any questions I might have asap and has always been very informative. I have recommended her and will continue to do so. These kittens are very well socialized and just the best all around! Thank you, Tracy for our little Evie!
Kristen J., Arkansas
(Egyptian Mau) 2014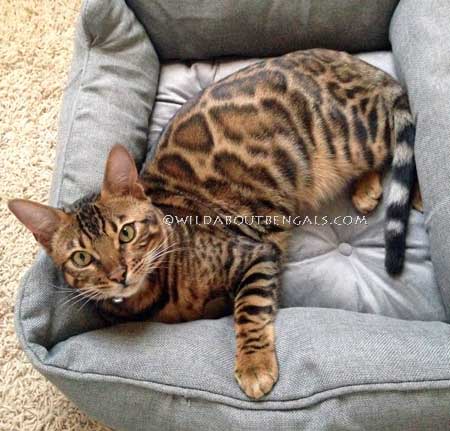 Rohan is our, not so little anymore, Bengal! He's very energetic, and loves to go for walks outside on a leash. He plays with any toy he's given, we often buy him dog toys because he likes the squeaky ones! He has a very gentle and sweet disposition, and learns incredibly fast! He knows about ten commands/words currently and we're working on toilet training him. Any time we have guests, take him for walks, or to the pet store we're always asked where we got such a beautiful cat! We love him and can't imagine our life without him now! Thanks!
The Bertrand Family, Arkansas
(Bengal) 2013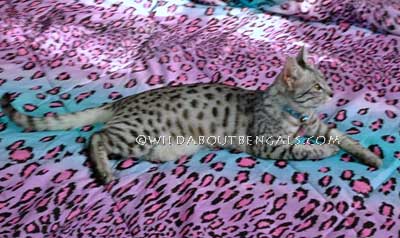 Kiya is the most loving and affectionate cat that I have ever seen. She is a total and complete goof. She's the acrobat with attitude. She's entertaining to watch and she makes me laugh, which is something I'd never thought I'd be able to do after my older cat had passed away. I don't think that I could find a better cat for me. I didn't want to be alone and Kiya makes certain that I am never alone. If I want to get the paper, it's time to hitch up her harness. Watching her grow up has been a wild ride. From the 12 week old baby that hid under the couch to the wild child that climbs the drapes, she's been an adventure.
It took a long time to find a breeder. Tracy was great throughout the whole process. She didn't require a deposit down to be placed on a waiting list unlike most breeders. I think her selecting a cat and payment processes are very fair. I would recommend Tracy to anyone that is in the market for a Mau or Bengal. She obviously knows how to raise great cats, she's very knowledgeable on the breeds and raising. But also, she's very fair as as a seller and has been a great help with questions or problems related to the cat. Kiya is almost a year old now and Tracy continues to be a big help if I ever need her for anything. If I want another Egyptian Mau in the future, I'm coming back to Tracy.
~Alicia C., Missouri, (Egyptian Mau) 2013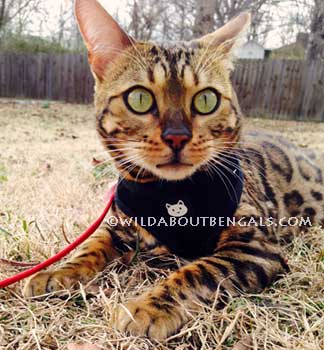 My husband and I have wanted a Bengal for many years. In 2013, we finally took the plunge. Definitely one of our best decisions! Ramesses "Ramee" is a beautiful, energetic cat. He is very friendly and loves visitors, especially children! He has stolen not only our hearts, but the hearts of many of our friends. We love that special wildcat purr he does when he is excited to see us and we enjoy playing hide and seek with him. Wild Trax Exotics are great breeders and produce stunning Bengals. Visit Ramee's Instagram for pictures @ rameethebengal .
Amber & Alex S., Arkansas, (Bengal) 2013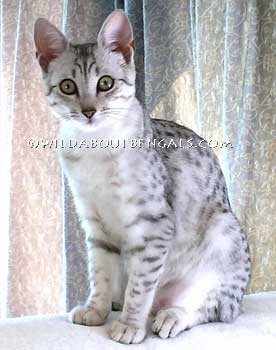 After the loss of our beloved Burmese, my wife and I were searching for a kitty to replace our "irreplaceable" pet. After 6 months of searching the internet & Cat Magazine ads, we discovered Tracy & our adorable Egyptian Mau, Xena. Tracy's professional experience was quickly evident. Her prompt reply to our inquiries, & her obvious devotion to her kitties led us to adopt our precious Xena, "Warrior Princess", who is everything we longed for in a new pet: affectionate, intelligent, playful, inquisitive, beautiful, and faster than any cat we have ever owned! If you are thinking of adopting an Egyptian Mau, do yourself a favor and contact Tracy. You'll be glad you did!!
David & Barbara E., Michigan
(Egyptian Mau) 2013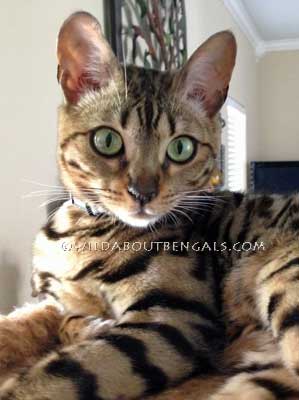 Cleo is a loving and active member of my kitty cat family and has adjusted well to her surroundings. Her coloring is lovely and her coat is super soft.
And when she graces me with a meow, it's music to my ears. She's a little over a year old in this picture and is the one my friends want to pet first when they come to visit. She is healthy and happy and I thank Tracy for having a cattery that produces such beautiful and loving animals.
Kristin G., Arkansas
(Bengal) 2013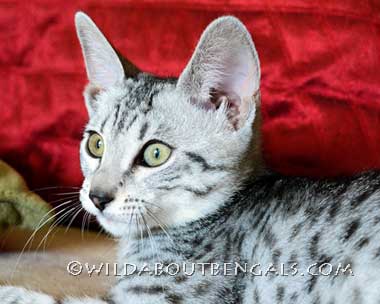 I found Tracy online last year after losing my 12-year old female Mau mix suddenly to kidney failure, and deciding that my next little one MUST be a silver Egyptian Mau. I have nothing to great things to say about how easy Tracy made the transaction and coordinating everything for the day I brought my new little girl home. It is obvious that my little Nathalia Grace knew only love before she came to live with me - and I know for a fact that Tracy always puts the best interests of her little kittens first. I would strongly recommend Tracy to anyone I know who is wanting to provide a little Mau or Bengal with a loving home; as for myself, if I decide to get Nathalia a little friend, I won't even consider working with anyone else. In a sea of too many 'backyard breeders' who care more about turning a profit than the animals who trust them unconditionally, Tracy sets the bar that all breeders should aspire to.
I have to brag on my new little girl here as well….little Nathalia Grace has completely stolen my heart! She is not only one of the most beautiful cats I've ever seen, she has an incredible personality that is a 100 times bigger than her actual size. She acclimated quickly to her new home without the neurosis I have seen in other cats. She is sweet and loving, and inserts herself in the middle of anything and everything I do at home. She has 3 'modes' - playtime, cuddle / love on Mom time, and naptime - never have I seen any displays of aloofness or the typical 'leave me alone' attitude that seems to be stereotypical of many cats. She is one happy little girl, and it shows in her even temperament and sweet personality. She also has an endless supply of energy, much more so than any other cat I've ever had….and some of the things she can do with that energy continue to surprise me. She fetches, she plays catch, she has been known to leap onto my shoulder from a sitting position on the floor….and man, is she fast! She definitely lives up to what I've seen in many articles about Maus and their speed and athleticism : Also, her intelligence level is crazy higher than I've ever seen in any cat! I couldn't be happier with her, and I consider myself so fortunate to have such an awesome kitty in my home. Thank you so much, Tracy!!
~Tammy M., Texas, (Egyptian Mau) 2013

Waffle has been with me seven months now, and she's doing great! She makes me laugh every day, constantly wants in my lap when I'm at the computer, and she follows me from room to room all the time. She can't stand not being in the same room as me. She's nine months old now, and her fur is still amazingly soft. She's luxurious to pet and cuddle. One definite thing, though: I have never before met, much less owned, a cat that LIKES to have its belly rubbed. Waffle melts into my lap when I start, and she's gotten where she won't sit in my lap like a normal cat anymore, instead preferring to sit more like a baby so I'll be roped into giving her belly rubs. She's also getting braver and braver when I'm taking a shower - I half expect her to be taking one with me by the time she's a year old!
~Stephanie W., Arkansas, (Bengal) 2013
I did want to take a few minutes and tell you what a joy Anubis is. I am head over heels in love with my little guy. He is so precious. He wants to be a part of everything you are doing, including while you are bathing. He LOVES playing with water! Sometimes its hard to keep him dry. He also loves helping you write, type, eat, sleep, and breath. It is adorable how he wants to be with you at all times and keep you company. He loves assisting while you are typing thinks the keys are cooooool. :) Its adorable how sweet and loving he is. Loves to cuddle, and purrrrrrrs his little heart away. He is also a fast little stinker and takes possession of his toys. He does a grawl that's adorable when he doesn't want you taking his toy away from him. He is so smart always knows where he puts his toys and knows when you move them. If I put them in a basket he will dump the whole thing over to get the one the wants to play with. I could go on forever talking about him. In fact to do when I have to go to work or somewhere I can't have him with him. He is the best thing in the world. Thank you for working with Andy and I to get our little baby. He is definitely our center of attention. Thank you again for such a wonderful animal.
~Kayleigh and Andy R., Nebraska, (Egyptian Mau) 2012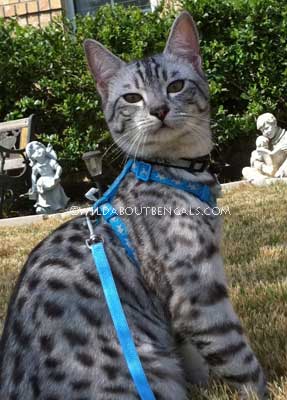 Querubin is so handsome we love him very much.
We play with Querubin and he chases us all over the house, he loves running up and down the stairs.
~Jose M., Texas
(Egyptian Mau) 2011

We LOVE our little boy Meowie Tse Tung that we got from you a year and a half ago. You are a good breeder. He is a very special and loved cat.
~Kitty K., Louisiana
(Bengal) 2011
The girls are doing great! They seem to be adjusting very easily with no detectable stress at all. I think having each other makes it a lot easier. They play hard and sleep hard and are purring loudly with cuddles, especially after their meals. They are using their litter box well and have already provided us with hours of amusement and belly laughs! They get lots of playtime with the wand toys and are big fans of snuggling in the big bed and with their papa during Sunday football! They are adjusting very well...no problems whatsoever and their interactions with each other are always making us laugh out loud. They have very complementary personalities and seem robust and happy and healthy! You did a fabulous job with them as kittens.

Emily & Mike W., Texas (Egyptian Maus) 2011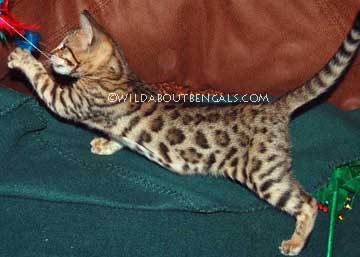 Ladybug is doing quite well. She is a bundle of energy. And that is an understatement. I play with
her before I go to work. Then when Dale gets home he plays with her and when I get home - I play with her for quite a while. And then once again before bedtime to wear her out. I have never seen a cat with so much energy!!! And she fetches. She has a couple of her favorite toys - that when we throw them for her, she brings them back and drops them in front of us to throw again. My daughter thinks this is cool and wants to put it out on YouTube. And she is so good in the car. I put her little bed in
the big carrier and she lays down and goes to sleep. We just love Ladybug !!
Deb G., Nebraska (Bengal) 2010
Samson is doing great! He sure loves to explore. He's all over the house now & has become real "buds" with the other three cats. They do get a little annoyed with him when we have playtime because he monopolizes every game! He even likes our dog now! He loves to play with the boys & will jump them so they'll wrestle with him; no fear there! He & Cinnamon chase each other through the house. Samson has certainly settled in & seems to be quite content in his new surroundings. He's a boundless bit of energy - maybe he'll get some weight off of Shasta at this rate! I'm sending you a few pictures - hope you enjoy them!
Val F., Arkansas (Egyptian Mau) 2010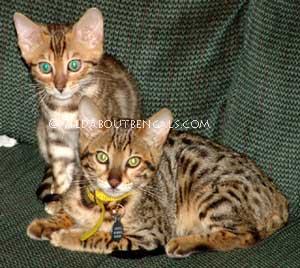 Just wanted to drop you a line to let you know that Calypso is doing great...we absolutely adore her. She is very affectionate, loving, and a little powerhouse with energizer bunny batteries running her engine! We love her temperament so much! We really love little Callie...she is quite sweet and very spazzy which makes us constantly laugh. She loves to play and has an over abundance of energy it seems. And how cute are those little growls when she is eating her kibbles! We just laughed at that. She is a little cuddle monster too.
Kris P., New York, (Bengal) 2010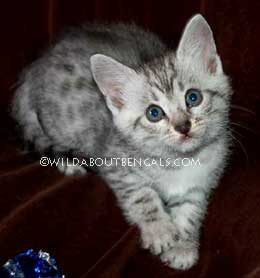 Amisi got her final shot today (rabies) & responded beautiful. Mary & I really enjoy her when she's in her crazy play mode. Makes me laugh all the time. She is now sleeping with us after I refused to let her steel her way into my heart. She is fast like a speeding bullet..wow.
Thanks
Jim & Mary I., Nevada
(Egyptian Mau) 2009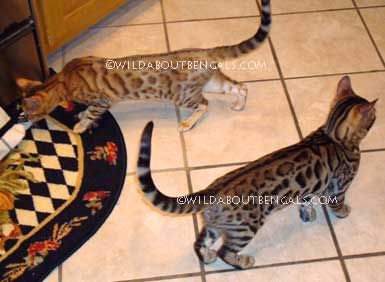 I have attached a few pictures for you to see how our two Bengals are developing. They continue to get more and more beautiful as they grow and we could not be happier with them. We are really enjoying them. They are very tender with our daughter and she loves them. They allow her to drag them all over the house. They have really developed as part of the family and we are happy with both of them. Thank you Tracy,
James S., Arkansas (Bengals) 2009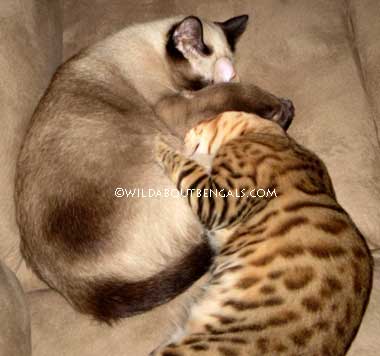 Dear Tracy, Our Bengal kitty Dexter is an amazing addition to our family. He's so smart and curious. He plays fetch and he loves water! His markings are beautiful and we couldn't be happier! Thank You,
The Brock Family
Arkansas, (Bengal) 2009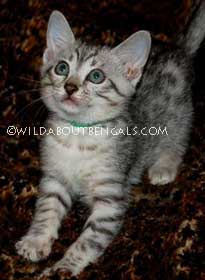 Just thought we would send a message in letting you know that Chloe is doing fantastic, she is the best kitten we could ever have asked for, she is so smart and sweet and full of energy all the time, she goes and full throttle until she's so tired she passes out on Sandi, its adorable, and I have been so shocked with her athleticism and intelligence over a regular domestic cat, she is truly a special girl.
Thank you again!!
Brad & Sandi W., North Carolina (Egyptian Mau) 2009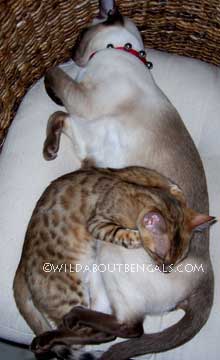 Our girl is doing great, she and Mojo are the best of friends! They play and play. Lots of I chase you then you chase me. She is getting long and skinny, with her long legs we sometimes refer to her as the jackrabbit. She is starting to fetch, gets in the shower with me, and by the end of the day she will have gotten all her favorite toys from upstairs to the downstairs. At night she has a furry pink mouse she takes to bed with her. Thank-you for checking in on us. She makes us all very happy everyday with her antics.

Mark & Jamie E., Arkansas (Bengal) 2009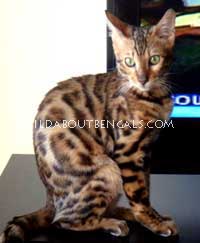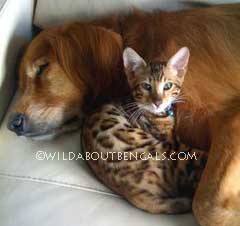 Dexter is so sweet and very smart. I'm a proud mama. He plays fetch and actually brings the object to your hand. He's a little retriever. Loves ice in his water and plays with it all day. Dexter is also toilet trained. And follows my boyfriend around all day long. Sleeps in his lap and wants to be carried all the time. He's a hunk. His coat is getting softer by the day. He has brought much joy into our lives.
Linda S, Florida (Bengal) 2009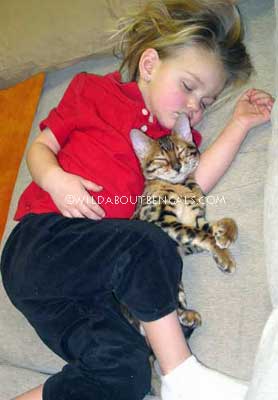 We want to thank you for Leo! We love him. He is so energetic and a very loving kitty.
~The Yungner Family, Minnesota (Bengal) 2008
I just wanted to send you a couple of pictures of our boy Benji to show you how big and handsome he's getting to be. Of course, the photos don't quite do him justice. He's much more beautiful in person. He's such a happy, playful little thing! And he's definitely decided that he rules the house. What is that old saying? "Dogs have owners. Cats have staff." He's also a mommy's boy and wants to be everywhere I am. He follows me around the house while I'm doing housework like he's mommy's little helper (he's in my lap right now trying to help me type!), and he curls up in my lap when he wants to take a nap and sleeps snuggled up beside me at night. Benji is a beautiful bundle of spirit and energy and love, and I don't know how we ever got along without him. We love him so much! Thank you again for our special boy.
Kelly A., Arkansas, (Bengal) 2008
Medjai is the sweetest, most adorable thing I have ever laid my eyes on. And he is totally taking in all the kids. The pictures really doesn't do him justice. He is so beautiful and soft. Maus are so QUICK!!!! I didn't realize how quick they are until watching him play. Last night he spent the night curled up on my chest and neck. It didn't take him long to get to know me at all. I can see why you love them so much. They are precious.

I just wrote to let you know things are going extremely well, and I also wanted to thank you so much for everything. I can tell he has come from a very loving home. He is the sweetest little thing. Tracy, I want you to know that he was definitely worth the wait. You have helped a dream come true for me and I am not the least bit disappointed. I cannot tell you enough how excited and thrilled I am to have him. Thank you so much. And I will write again real soon!! I'll think of you everyday that I see Medjai!!!!
Second Update: I just thought I'd just say "Hi", and let you know little Medjai is doing great. He's up to 5 lbs. now, and just as active and extremely energetic as always. His motor skills has improved greatly as he amazes us everyday with his athletic abilities. They are so funny to watch, and when you said they like to be a part of every aspect of your life you were not joking. He's helping me type right now, but I must say his spelling needs a little improving.
He is incredible. He likes to sit on my shoulders and watch me do dishes, cook, and even put on makeup. He is so intuned with each family members needs and feelings, it's almost like he has a sixth sense. He has even jumped in the shower with me a few times, although he doesn't quite like his own bath time yet, he is getting better with it. They are an amazing breed. Thanks again for giving me and my family the opportunity to enjoy these very special animals. He is one very special little guy!!!

Diana K., Indiana (Egyptian Mau) 2008
Scrotchen is now registered and a prime member of our family. He has learned new tricks like turning off the bedroom light from the fan string and drinking from the toilet ( I swear he has a water bowl) lol! Also he loves visiting us while in the tub. He loves water!!! He sleeps with us most nights and wakes us up with face rubs and purrs. He has a perch in the kitchen top. He greets us when we come home and cries when we leave (sad) . He is soooo good with our 5 year old and our niece 6 that loves him so much. She comes to see us so she can see him. He is patient with them and loving. Thank You so much!

Chad & Cheryl H., Texas (Bengal) 2008
Hanzo is a delight! We're best friends and he's still the little snuggle monster he was from day one. He's managed to charm most of the other cats into putting up with his constant madness. He loves to splash the drinking water all over the floor. His favorite toy is whatever wash rag he can find in the kitchen. He likes to play tug of war with me and growls like a little puppy when we fight for the rag. He's the same way with the cat toys. He'll catch the toy and drag me around the house by the string growling and purring. He's taken to leaping at parts of the fridge he thinks would look better in his mouth. But, he's also a great bed kitty and loves to snuggle as much as he likes to play. He follows me around the house and gets into whatever I'm up to. He knows his name and comes when called and we're going to start leash training soon. He fears absolutely nothing. He's rather hard to punish, because he thinks everything is play. He's also incredibly unafraid of strangers. He wants to do the air conditioning and computer repair guys' paperwork for them and thinks he's a qualified plumber's assistant. While he likes others and lets them hold him and fuss over him, he goes limp as a rag in my arms and adores me. I've never been so happy with a fuzzy pal!

Scott A., Arkansas (Bengal) 2007
Our bengals are totally spoiled!! We just can't help it. I tell you they are more like a dog than cats. They come when we call them, and follow us all over. Our Mr. Elvis is very mischievous. He gets on the counter and opens plastic bags, and eats whatever he finds. He is very persistent, and just doesn't give up.I think they are pretty big cats for their age. We'll see as they get older. Priscilla is the talker out of the two. She has a very sweet voice and sound. Elvis is pretty quiet overall. When he does talk, it's very sweet and soft. He is like a little teddy bear. He lets me carry him all over. Whereas, Priscilla, only lets me hold her for so long. They look like fraternal twins. We are just enjoying them so much.

Eva W., Arkansas (Bengals) 2007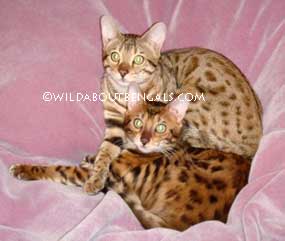 Tracy, I just wanted to let you know how happy I am with my two little guys, Brindle and Timber. They turned one year old on September 4, 2008 and are such a joy and I love them so much! Brindle is the larger and lighter colored boy and now weighs 12 pounds, and Timber is the darker boy and weighs 9 pounds. They are so intelligent and keep me laughing all the time with their antics. I am so glad that I decided to get two, they are best friends and love to play chase, hide and seek, and wrestle with each other, and they love everyone they meet, and everyone who sees them thinks they are just gorgeous. They have their own little distinctive personalities; Brindle is more mischievous and always has to be into something, he loves to jump on the television and climb around in the artificial tree, and hit large pictures on the wall to make them swing back and forth, he also loves to jump on the refrigerator and climb into cabinets and put his toys in his water bowl, especially the fuzzy toys. Timber has learned a lot from his brother and also loves to climb on bookshelves and has learned to walk on top of the vertical blinds, and he loves to sleep with his arms stretched out in front of him, so cute. They both love water and drinking from the kitchen faucet and love to play in the bathtub, and splash the water out of their water bowls. When they are finished with their mischief, they love to cuddle with me. I also want to thank you so much for taking the time to answer all my questions before I decided to get them, I know I asked a lot of questions and you were always so nice in taking the time to answer all of them. And letting me visit them in your house, so I could see them in person before I got them, I saw then how much you loved and cared for all your animals and how happy they all were running around playing. Thanks again for my precious boys!
~Sandra S., Arkansas (Bengals) 2007
Lizzy will be one next week. She is a great, sweet kitty with an incredible personality. She can roll over as well as fetch toys. She loves to play with water in the sink and bathtub faucets. She is very vocal and lets us know just what she likes and doesn't like! We love her and she's become a wonderful addition to our family. Just wanted you to see her as she's grown up a bit.

Becca M., Arkansas (Bengal) 2007
I want to thank you for everything you have done I know I was full of all kinds of questions, you always called me right back and made time for me, thanks for that. And as you tried to warn me Bengals are like no other cat I only wish I was a little younger so I might could keep up with him a little better. I will try to send you some more pictures he is growing by leaps and bounds. I swear some days when I come in he has grown another inch just since I left that morning. Some of his spots are beginning to change, kind of looks like they might be turning into what I have seen called the arrow head rosettes. Oh god he is trying to help me type I guess its supposed to be his time now.

Jim W., Arkansas (Bengal) 2007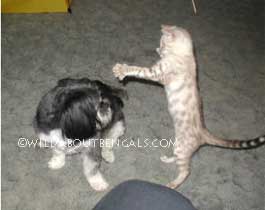 As if you are not already sold on Tracy and her Kittens....I will just add that our experience has been very good also...except we are in Alaska! We had never dealt with a breeder of any kind for cats, esp. not over the Internet. We too had heard that you have to be so careful. (We mostly have had only Lhasa Apso dogs.) Our kitty arrived healthy and as promised she is adorable and active. Her name is Persephone. Persie for short. We are getting real tempted to get another! My husband Ed did all the shopping and found Tracy and they arranged all the shipping which was a real problem due to the distance, but, Tracy was a real trooper and went above and beyond to work it out with the airlines. We were afraid she'd say forget it! My husband would have been terribly disappointed if it hadn't worked out. Now I'm hooked on the Bengals, too. She does have glitter and is so soft. It's incredible. She terrorizes the dogs right now, (not hurting them) and the older cat we have does not like to play, so we may have to get another kitten.... :) If you like cats, you will not regret these cats!
Eileen, Alaska (SBT Bengal) 2006
I just want to thank you SO much for Charlie our new addition to our family! We love her SO much and she is such a joy to have! She is so smart, and plays fetch with us and loves to snuggle and talk to us! We are really happy!
Update 5/2007- Got a second Bengal from Wildtrax, named Steeda- They absolutely LOVE each other - that did not take long, I thought you would enjoy these pics! Thanks again for everything!
Nicole Z., Illinois (Bengals) 2006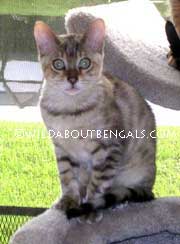 WildTrax is the third Bengal breeder we've worked over the internet with. We've had wonderful experiences with all three. Tracy was our best experience yet. She is very forthcoming with information and answered our questions expertly and expeditiously and overall wonderful to work with. She is very organized and knows all the ins and outs of shipping her kitties. Stratus is just an outstanding kitten and fits in so well with our family. He's so full of life and love. He'll go from playing fetch with a toy to snuggling down for a cuddle and a grateful purr. He loves to play with our other two bengals and has really livened up those two older boys. All three chase through the house, wrestle and then pile together for a nap.
Jerry & Robert, Florida (Bengal) 2005
We bought 2 female snow bengals from Tracy, Bellatrix and Mintaka. They are both healthy and full of energy, a little too full at times, but they are kittens and go from playing kitty WWF wrestling to being perfect little angels at the drop of a hat. Tracy shipped them from AR to San Francisco. She planned the flights well and within minutes of getting our kittens home they were happy and purring in our laps. We originally tried to work with a local breeder and decided to go with Tracy for several reasons instead. Her kittens seemed to be healthier and more socialized with people compared to the local breeder who had like 26 kittens at a time and lost a few. Tracy also was upfront about her pricing and what you had to do to reserve a kitten. She worked with us to establish a time for shipping them and took the proper precautions to prevent them from being shipped in bad weather.
Chris S., California (Bengals) 2005
I thought I'd send you a couple pictures and let you see how big Brighton is getting. He's 9 months old now so I suspect he will get even get bigger. He has the best personality of any cat I've ever seen and he loves everyone. However, he is a thief! Loves ink pins....will get everyone he can and hide them. He is doing absolutely great is every where we are at in the house.
Larry B., Arkansas (Bengal) 2005
If you have a kitty from Wild Trax that you would like to send us an update about, or share your experience dealing with us for the website, please email Tracy at
tracy@wildaboutbengals.com
. We love to see photos of our kittens grown up and loved by their new families!