CAT & KITTEN RESOURCES RECOMMENDED BY WILD TRAX EXOTICS
STATE LAWS FOR EXOTIC & HYBRID BREEDS
Hybrid Law- Check this website first to make sure you can legally own hybrid cat breeds in your state. Note: You will still need to check your local city and county laws directly. http://www.hybridlaw.com
BREED RESOURCES & CLUBS
EXOTIC CAT INFORMATION (SERVALS, ETC):
CERTIFIED CAT BEHAVIOR CONSULTANT:
PET NAME IDEAS:
GENERAL PET SUPPLIES:
CAT TREES & FURNITURE:
NUTRITION & SUPPLEMENTS: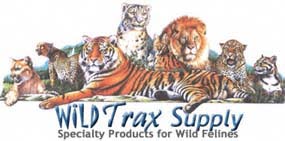 Wildtrax Feline Supplement - simply add this supplement to raw meat to create a nutritionally balanced diet to match a whole prey diet that cats would eat in the wild. For wild felines, hybrids, and domestic cats.
LITTER BOX SOLUTIONS:
FLEA & TICK:
GROOMING:
Bengals and Egyptian Maus do not need regular grooming, but when they need to be cleaned up a little, we use Waterless Bath No Rinse Shampoo. http://jefferspet.com

KITTEN NURSING SUPPLIES:
CRISIS SUPPORT:
URINE STAIN & ODOR REMOVAL:
OUTDOOR SECURITY ENCLOSURES FOR CATS:
BEHAVIOR MODIFICATION:
WALKING JACKETS FOR CATS:
PET ID TAGS:
PLANTS TOXIC TO CATS:
INFORMATIVE DATABASE OF CAT RELATED ARTICLES:
VETERINARY RESOURCES:
LIVE TRAPS & CAPTURE EQUIPMENT:
MISC PET RELATED WEBSITES / Link Trades:
Cats rule at I-Love-Cats.com. Get tons of free feline stuff - cat breed information, cat names, cat pictures, cat supplies and so much more.
The PetDirectory.us A popular resource to learn about all pets and find local breeders.
MetCat.com - Cats Directory and information on the web.